Hot Air Sterilizer (Class 100 Type)
ECHS-01
To ensure Hot Air Sterilization inside of the chamber is within Class 100 , it's designed in accordance to the principle of forcing convection, passing through HEPA filter, and the speed of hot air transported circulation is fast.
When the hot air temperature is reached 170 ~ 260°C, the internal temperature will be decreased, and the bottles, appliances, aluminum caps, and rubber stoppers (low temperature) are completed sterilized and comply with cGMP regulation.
Features
The quality is dependable in according with ISO 9001 and cGMP regulations.
Absolute high temperature (398℃) and high efficiency HEPA filter (DOP. Test 99.97%), ensure the chamber air class within 100. (Use hot air effect HEPA filter to filter after enter chamber will complete sterilize bacteria, chamber inside bacteria quantity below 6 log (10-6).
Intake / exhaust choice 99.97% filter device to use.
Charge DOP, particle counter test hole and validation testing holes are available for inspection.
Prepare a validation hole to make Quality Assurance people test the FP / FH value of the chamber between the heating distribution and the heating penetration.
During sterilization process, the chamber inside empties temp. with ± 5℃.
Every filter has one pressure gauge check two-side the pressure and check filter life.
Intake / exhaust has one damper can compete control every cycle open and close.
Applications
Apply for Pharmaceuticals / Biotechnology / Electronics / Chemicals / Foods industries, etc.
Mainly use for the glass & metal sterilizer and hot source depyrogenation, such as vial, ampoule, injection bottles, various medical bottles, aluminum cover, and rubber stopper, etc.
Specification
This machine is designed and fabricated by high quality technique, all construction materials are made of SS304, 316 or 316L stainless steel and comply with cGMP standard.
Sealed door packing uses the ring silicone rubber material to ensure hot air without leakage.
Adjustable inlet and outlet dampers are for the chamber heat distribution.
Sealed interior chamber (Argon welding) and stainless steel chamber permit washing the chamber.
Single door or pass through type double door are available.
Auto controller has two Temp. controls to ensure the operation being safe.
The sterilizer has two-door design that separates the sterilizer from the washing room and sterilizing room.
The bottle loading is from washing room side after sterilization being completed and the product unloading is only from sterilizing room side.
The door control uses interlock device to avoid contamination being caused from the different air class.
Sterilizer trolley uses stainless and sterilizer tray can be harmony with the filling machine.
Model
Chamber Dimension
(W x H x D)
External Dimension
(W x H x D)
Heater (KW)
Fan (HP)
Max Temp. (°C)
ECHS-15
850 x 1000 x 1000
2000 x 2100 x 1350
15
1
280
ECHS-18
850 x 1200 x 1000
2000 x 2300 x 1350
18
2
280
ECHS-24
850 x 1500 x 1000
2000 x 2600 x 1350
24
2
280
ECHS-30
1000 x 1650 x 1220
2150 x 2750 x 1570
30
3
280
ECHS-36
1200 x 1650 x 1220
2350 x 2750 x 1570
36
3
280
ECHS-45
1600 x 1650 x 1300
2750 x 2750 x 1570
45
5
280
※ We can accept customer specify specification.
Control System
Using human machine interface touch screen (LCD with color) and PLC sequence controller for Hot Air Sterilizer System, easy to operate and maintain.
Operation panel can set up multiple type of displayed information, you can operate, adjust and install the equipment in accordance with the screen.
Using Silicone Control Rectifier (SCR) module for control system, it had a very smooth and stable temperature curve with auto tuning temperature controller (P.I.D) during sterilization.
Recording continuous curve of the chamber sterilization process by temperature recorder, you can choose 6 points or 12 points.
Automatic sterilizer cycle including five stages: heating → drying → sterilizing → cooling → finishing.
Preventing hot temperature happened and bottles' broken when cooling cycle is not finished yet and the door can't be opened.
Providing optional equipment purchasement to check chamber pressure is in regular condition or not during turning. The recorder will display pressure value.
Temperature Curve Chart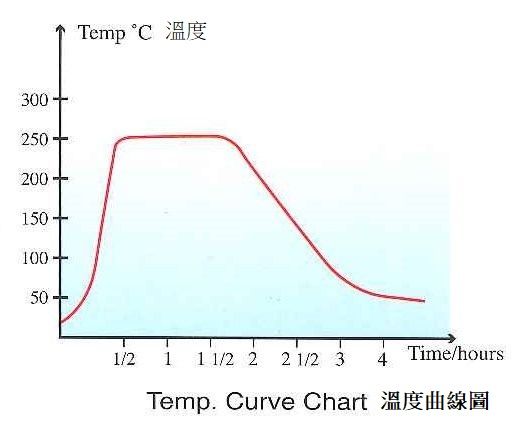 Processing Map: Map 1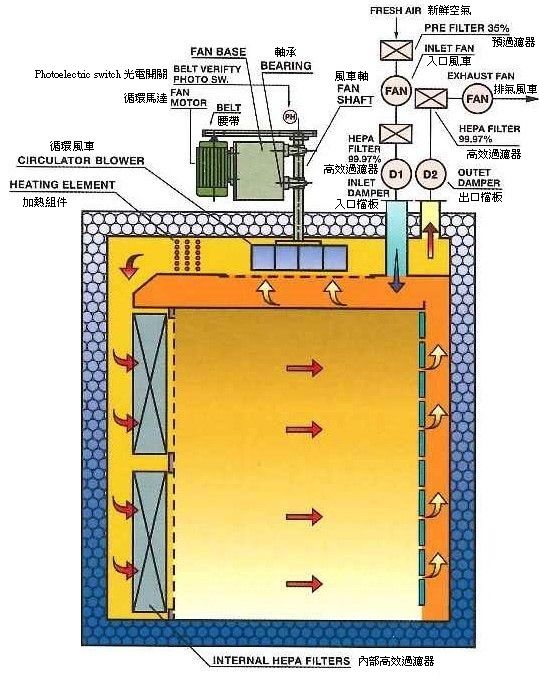 Processing Map: Map 2

The equipment will be fully tested before delivering to customer's end, providing original calibration documents, IQ & OQ documents, and all calibration reports of various instruments including temperature sensor that also comply with cGMP regulations.
Gallery

Related Products
E-Catalogue
Please check up on the E-catalogue for product instruction.
Download
Hot Air Sterilizer (Class 100 Type) - Hot Air Sterilizer (Class 100 Type) | Taiwan-Based Pharmaceutical & Biotech Manufacturing Equipment Manufacturer | E CHUNG MACHINERY CO.
Located in Taiwan since 1975, ECMC (E CHUNG MACHINERY CO.) has been a pharmaceutical and biotech processing equipment manufacturer. Main products, including Hot Air Sterilizer (Class 100 Type), autoclaves, WFI, water systems, pure steam generators, superheat water sterilizers, vial washing machines, tunnel sterilizers, and, in particular, hot air and steam sterilizers.
ECMC (E CHUNG) company is a professionl experienced manufacturer in the pharmaceutical sterilization industry more than 48 years so that our customers located worldwide. Sterilization machines are manufactured in line with current international standards (EU standards, US standards, GMP and GAMP, etc.).
ECMC (E CHUNG) has been providing customers high-quality cGMP pharmaceutical and biotech processing equipment, both with advanced technology and 48 years of experience, ECMC (E CHUNG) ensures each customer's demands are met.